Donohoe, Charles aka "YutYut"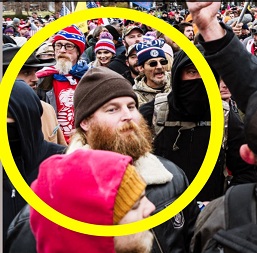 Full name (Latin characters)
Donohoe, Charles
Family/Last name(s)
Donohoe
Given/First name
Charles
Middle name(s)
Twitter hashtag
#YutYutPB
Alias
YutYut
Location
Kernersville NC
Website
DOB
Additional Notes
regarding Proud
Boys J6 march
Donohoe was seen charging up the upper levels of the Capitol steps as the mob was making their final breakthrough to the building on the west side.
Keywords
Group affiliations :
| ID | Group Name | (Parent Org) | Role |
| --- | --- | --- | --- |
| | Proud Boys | | member |
| | Ministry of Self-Defense | Proud Boys | member |
Additional data from LittleSis.org
Check LittleSis.org for additional documentation of items below.
Related Party
Description
Detail
Start
End
Count
Sum
Currency
Click Me
Description
Partner ID
Partner Link
J6 Case history
All subjects are innocent before the law until proven guilty in court.
| | |
| --- | --- |
| Alleged J6 Role | Invader |
| Case ID | 1:21-cr-175 |
| Case Status | Arrested |
| FBI BOLO ID | |
| Age at time of offense | 33 |
| Employer at time of offense | |
| Position at time of offense | |
| Empl. Status | |
| Charges | Conspiracy; Obstruction of an Official Proceeding and Aiding and Abetting; Destruction of Government Property and Aiding and Abetting; Entering and Remaining in a Restricted Building or Grounds; Disorderly Conduct in a Restricted Building or Grounds |
| URL | https://www.justice.gov/usao-dc/defendants/donohoe-charles |
| Notes | Known leader of NC Proud Boys. Not seen giving orders at Capitol, but seen charging up the upper levels of the NW Capitol steps during breach rush. Threw something at police on Upper West Plaza. |
Reference material:
Case history:
| ID | Incident | Jurisdiction | Case Status | Charges | Arrest date |
| --- | --- | --- | --- | --- | --- |
| | January 6th 2021 Putsch at the United States Capitol | US DOJ | Arrested | Conspiracy; Obstruction of an Official Proceeding and Aiding and Abetting; Destruction of Government Property and Aiding and Abetting; Entering and Remaining in a Restricted Building or Grounds; Disorderly Conduct in a Restricted Building or Grounds | 2020-03-17 |
Associates:
| File | Photo | Name | Connection | Detail |
| --- | --- | --- | --- | --- |
| | | Rae, Paul | Appears in photo(s) together | 1 |
| | | Wolkind, Aaron B. | Appears in photo(s) together | 1 |
| | | Hashtag: #AquaPB | Appears in photo(s) together | 1 |
| | | Chrestman, William Norman | Appears in photo(s) together | 4 |
| | | Donovan, William | Appears in photo(s) together | 1 |
| | | Hashtag: #AZSkeletorPB | Appears in photo(s) together | 1 |
| | | Rajewski, Dion | Appears in photo(s) together | 1 |
| | | Hashtag: #BaldBadFlag | Appears in photo(s) together | 2 |
| | | Mullin, Gregory Kevin II | Appears in photo(s) together | 1 |
| | | Whicker, William Fletcher III | Appears in photo(s) together | 2 |
| | | DeRijk, Hayes | Appears in photo(s) together | 2 |
| | | Stewart, John Charles | Appears in photo(s) together | 1 |
| | | Hashtag: #BlackLeatherPB | Appears in photo(s) together | 1 |
| | | LaRosa, Tara | Appears in photo(s) together | 1 |
| | | Hashtag: #BlondiePB | Appears in photo(s) together | 1 |
| | | Hashtag: #BlueHairBooPB | Appears in photo(s) together | 1 |
| | | Hashtag: #BluePJ | Appears in photo(s) together | 2 |
| | | Hashtag: #BuffaloPlaidPB | Appears in photo(s) together | 2 |
| | | Hashtag: #BunyanPB | Appears in photo(s) together | 3 |
| | | Hashtag: #BurtonPB | Appears in photo(s) together | 1 |
| | | Valentino, Alesandro Arthur | Appears in photo(s) together | 2 |
| | | Hashtag: #ChickenDancePB | Appears in photo(s) together | 1 |
| | | Hashtag: #ChinBeardPB | Appears in photo(s) together | 1 |
| | | Hill, Christopher James | Appears in photo(s) together | 1 |
| | | Ramey, Barry Bennett | Appears in photo(s) together | 2 |
| | | McDonald, Trevor | Appears in photo(s) together | 2 |
| | | Hashtag: #CoatFlipperFlagGaiter | Appears in photo(s) together | 1 |
| | | Hashtag: #CokeStrokePB | Appears in photo(s) together | 2 |
| | | Hashtag: #ColSandersPB | Appears in photo(s) together | 1 |
| | | Hashtag: #CommieKiller | Appears in photo(s) together | 2 |
| | | Davis, Dallas | Appears in photo(s) together | 5 |
| | | Schmitz, Matthew | Appears in photo(s) together | 2 |
| | | Hashtag: #DopeyPB | Appears in photo(s) together | 1 |
| | | Hashtag: #DTOMGaiterPB | Appears in photo(s) together | 2 |
| | | Hashtag: #EarnhardtPB | Appears in photo(s) together | 1 |
| | | Block, Eddie | Appears in photo(s) together | 2 |
| | | Tarrio, Henry | Appears in photo(s) together | 2 |
| | | Vournas, Tom Henry | Appears in photo(s) together | 4 |
| | | McGrew, Joshua | Appears in photo(s) together | 2 |
| | | Jackman, Arthur | Appears in photo(s) together | 1 |
| | | Pepe, Will | Appears in photo(s) together | 1 |
| | | Greene, Matthew | Appears in photo(s) together | 1 |
| | | Hashtag: #FlagBeaniePB | Appears in photo(s) together | 6 |
| | | Harris, Johnny | Appears in photo(s) together | 1 |
| | | Santos, Marcos James | Appears in photo(s) together | 1 |
| | | Hashtag: #FloridaHatPB | Appears in photo(s) together | 6 |
| | | Bieder, Gary | Appears in photo(s) together | 1 |
| | | Lashomb, Arthur M. | Appears in photo(s) together | 1 |
| | | Nunez, Genaro | Appears in photo(s) together | 1 |
| | | Hashtag: #GoldHelmetPB | Appears in photo(s) together | 1 |
| | | Hashtag: #GoldMaskPB | Appears in photo(s) together | 1 |
| | | Saenz, Michael | Appears in photo(s) together | 2 |
| | | Grace, Jeremy | Appears in photo(s) together | 1 |
| | | Hashtag: #GreenDiabloPB | Appears in photo(s) together | 1 |
| | | Thaxton, Jay Robert | Appears in photo(s) together | 4 |
| | | Hashtag: #GreyBuzzcutPB | Appears in photo(s) together | 2 |
| | | Hashtag: #GreyHoodRedHatPB | Appears in photo(s) together | 1 |
| | | Hashtag: #GreyOldNavyPB | Appears in photo(s) together | 1 |
| | | Hashtag: #GreyStripeGaiterPB | Appears in photo(s) together | 1 |
| | | Rusch, Shannon | Appears in photo(s) together | 1 |
| | | Haynes, Joshua Dillon | Appears in photo(s) together | 1 |
| | | Hashtag: #HugeRedScarfPB | Appears in photo(s) together | 1 |
| | | Howland, Jason | Appears in photo(s) together | 1 |
| | | DeRijk, Menno Sr. | Appears in photo(s) together | 5 |
| | | Biggs, Joseph Randall | Appears in photo(s) together | 3 |
| | | Moss, Johnathan | Appears in photo(s) together | 2 |
| | | Crookston, John R. | Appears in photo(s) together | 1 |
| | | Vy, Freedom | Appears in photo(s) together | 1 |
| | | Hashtag: #KidRedPB | Appears in photo(s) together | 1 |
| | | Quaglin, Christopher Joseph | Appears in photo(s) together | 1 |
| | | Nugent, Travis Wayne | Appears in photo(s) together | 1 |
| | | Loehrke, Ronald | Appears in photo(s) together | 3 |
| | | Hashtag: #MericaPB | Appears in photo(s) together | 1 |
| | | Guarno, Jason G. | Appears in photo(s) together | 2 |
| | | Scott, Daniel Lyons | Appears in photo(s) together | 7 |
| | | Causey, William Cody | Appears in photo(s) together | 1 |
| | | Hashtag: #MrMustardPB | Appears in photo(s) together | 1 |
| | | Hashtag: #NinjagoPB | Appears in photo(s) together | 1 |
| | | Giddings, Isaiah | Appears in photo(s) together | 1 |
| | | Bertino, Jeremy Joseph | Appears in photo(s) together | 4 |
| | | Hobbs, Brett | Appears in photo(s) together | 2 |
| | | Hashtag: #OrangeLensesPB | Appears in photo(s) together | 6 |
| | | Hashtag: #OrangeRWDSPB | Appears in photo(s) together | 1 |
| | | Northcross, Michael John | Appears in photo(s) together | 2 |
| | | Grace, Jeffrey | Appears in photo(s) together | 2 |
| | | Hashtag: #PhotogRogerPB | Appears in photo(s) together | 1 |
| | | DeRirk, Menno Jr. | Appears in photo(s) together | 1 |
| | | Homer, Lisa Ann | Appears in photo(s) together | 4 |
| | | Ronayne, Michael | Appears in photo(s) together | 5 |
| | | Rice, Bradley | Appears in photo(s) together | 3 |
| | | Delatorre, Edgar J. | Appears in photo(s) together | 1 |
| | | Nordean, Ethan Michael | Appears in photo(s) together | 6 |
| | | Kennedy, Nicholas L. | Appears in photo(s) together | 3 |
| | | Ragland, Sean Patterson | Appears in photo(s) together | 1 |
| | | Whorton, Bartholomew Richard | Appears in photo(s) together | 2 |
| | | Hoel, James Allan | Appears in photo(s) together | 4 |
| | | Worrell, Christopher John | Appears in photo(s) together | 4 |
| | | Hashtag: #ShirtstainPB | Appears in photo(s) together | 1 |
| | | Garrett, Troy | Appears in photo(s) together | 2 |
| | | Hashtag: #SleepyPB | Appears in photo(s) together | 1 |
| | | Hashtag: #SouthwestPB | Appears in photo(s) together | 1 |
| | | Hashtag: #SpacklerPB | Appears in photo(s) together | 1 |
| | | Pezzola, Dominic | Appears in photo(s) together | 1 |
| | | Belena, Christian F. | Appears in photo(s) together | 1 |
| | | Miller, Susan Anne | Appears in photo(s) together | 1 |
| | | Hashtag: #TagMyFlagsPB | Appears in photo(s) together | 1 |
| | | Armstrong, Leon | Appears in photo(s) together | 1 |
| | | Hashtag: #TanStripePB | Appears in photo(s) together | 1 |
| | | Jackson, Micajah Joel | Appears in photo(s) together | 1 |
| | | Konold, Felicia | Appears in photo(s) together | 1 |
| | | Konold, Cory | Appears in photo(s) together | 1 |
| | | Finley, Jeff | Appears in photo(s) together | 1 |
| | | Hashtag: #TheVestPB | Appears in photo(s) together | 1 |
| | | Hashtag: #ToyotaPB | Appears in photo(s) together | 4 |
| | | Hashtag: #TreasonEagleScout | Appears in photo(s) together | 2 |
| | | Hashtag: #UFPB | Appears in photo(s) together | 2 |
| | | Birdsong, Michael | Appears in photo(s) together | 1 |
| | | James, Jason | Appears in photo(s) together | 1 |
| | | Gieswein, Robert Dean Carr | Appears in photo(s) together | 4 |
| | | Hashtag: #WindbreakerPB | Appears in photo(s) together | 1 |
| | | Hashtag: #WookiePB | Appears in photo(s) together | 2 |
| | | Alonso, Fernando | Appears in photo(s) together | 1 |
| | | Ashlock, Ryan | Appears in photo(s) together | 2 |
| | | Rehl, Zachary | Appears in photo(s) together | 3 |
| | | Haffner, James | Appears in photo(s) together | 1 |
Web presence:
| ID | Picture | External ID | Display name | Description | Phone | Email | Source |
| --- | --- | --- | --- | --- | --- | --- | --- |
| | | YutYut | | | | | Telegram |