Block, Hendrik aka "Eddie"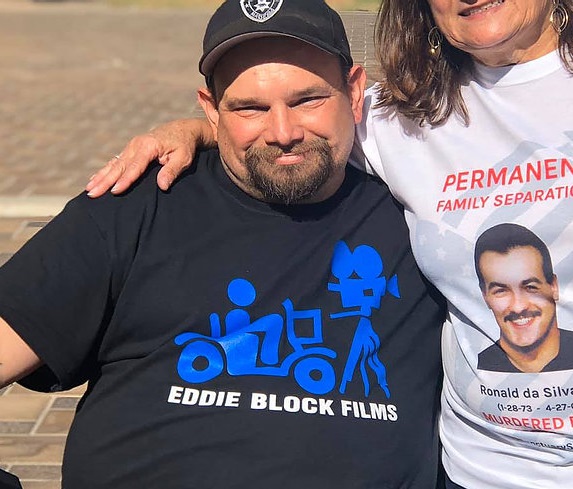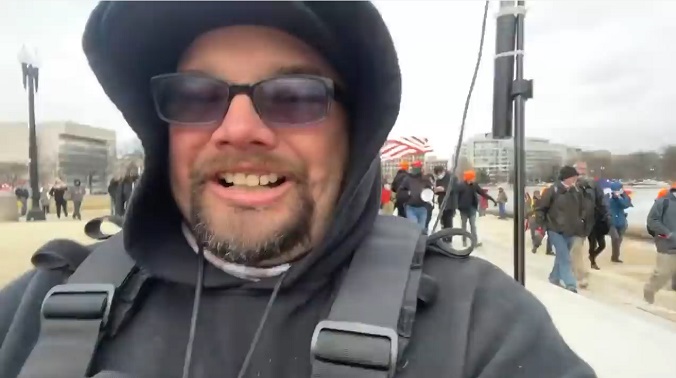 Full name (Latin characters)
Block, Eddie
Family/Last name(s)
Block
Given/First name
Hendrik
Middle name(s)
Twitter hashtag
#EddieBlock
Alias
Eddie
Location
Madera CA
Website
DOB
Additional Notes
regarding Proud
Boys J6 march
Block livestreamed the group's activity on YouTube for over an hour and a half until just after they had overrun the first set of barricades. He removed the video from his YouTube channel shortly after the riot. He also livestreamed from the western steps of the Capitol from behind police lines on the upper terrace. He claims the legal protections of being a journalist, but also purports to be a high-ranking Proud Boy due to his scuffling with "Antifa"
Keywords
Categories/Group affiliations :
| ID | Group Name | (Parent Org) | Role |
| --- | --- | --- | --- |
| | Proud Boys | | member |
Additional data from LittleSis.org
Related Party
Description
Detail
Start
End
Count
Sum
Currency
Click Me
Description
Partner ID
Partner Link
J6 Case history
All subjects are innocent before the law until proven guilty in court.
| | |
| --- | --- |
| Alleged J6 Role | Invader |
| Case ID | |
| Case Status | search warrant executed |
| FBI BOLO ID | |
| Age at time of offense | |
| Employer at time of offense | |
| Position at time of offense | |
| Empl. Status | |
| Charges | |
| URL | |
| Notes | Led the March to the Capitol. Crossed onto illegal grounds. |
Reference material:
Case history:
| ID | Incident | Jurisdiction | Case Status | Charges | Arrest date |
| --- | --- | --- | --- | --- | --- |
| | January 6th 2021 Putsch at the United States Capitol | | search warrant executed | | |
| | Violence in Portland OR August 2021 (Summer of Hate) | | | | |
Associates:
| File | Photo | Name | Connection | Detail |
| --- | --- | --- | --- | --- |
| | | Block, Eddie | Connected via social media | Venmo |
| | | Chrestman, William Norman | Appears in photo(s) together | 1 |
| | | Hashtag: #AZLightGreyPB | Appears in photo(s) together | 2 |
| | | Donovan, William | Appears in photo(s) together | 2 |
| | | Hashtag: #AZUnlimitedPB | Appears in photo(s) together | 1 |
| | | Hashtag: #BaldBadFlag | Appears in photo(s) together | 1 |
| | | Hashtag: #BeadyEyesPB | Appears in photo(s) together | 1 |
| | | DeRijk, Hayes | Appears in photo(s) together | 1 |
| | | Hashtag: #BlackLeatherPB | Appears in photo(s) together | 2 |
| | | LaRosa, Tara | Appears in photo(s) together | 1 |
| | | Hashtag: #BlueHairBooPB | Appears in photo(s) together | 1 |
| | | Hashtag: #BluePJ | Appears in photo(s) together | 2 |
| | | Hashtag: #BootsPB | Appears in photo(s) together | 2 |
| | | Recor, Brandon | Appears in photo(s) together | 1 |
| | | Hashtag: #BuffaloPlaidPB | Appears in photo(s) together | 1 |
| | | Tuck, Nathaniel A. | Appears in photo(s) together | 1 |
| | | Valentino, Alesandro Arthur | Appears in photo(s) together | 2 |
| | | Tulin, Chaz | Appears in photo(s) together | 1 |
| | | Hashtag: #ChinBeardPB | Appears in photo(s) together | 1 |
| | | Ramey, Barry Bennett | Appears in photo(s) together | 1 |
| | | McDonald, Trevor | Appears in photo(s) together | 1 |
| | | Hashtag: #CoatFlipperFlagGaiter | Appears in photo(s) together | 1 |
| | | Hashtag: #CokeStrokePB | Appears in photo(s) together | 1 |
| | | Colon, Louis Enrique | Appears in photo(s) together | 1 |
| | | Hashtag: #ColSandersPB | Appears in photo(s) together | 1 |
| | | Hashtag: #CommieKiller | Appears in photo(s) together | 1 |
| | | Manzanares, Mario | Appears in photo(s) together | 1 |
| | | Davis, Dallas | Appears in photo(s) together | 3 |
| | | Tooze, Daniel | Appears in photo(s) together | 1 |
| | | Schmitz, Matthew | Appears in photo(s) together | 1 |
| | | Hashtag: #DopeyPB | Appears in photo(s) together | 1 |
| | | Hashtag: #DTOMGaiterPB | Appears in photo(s) together | 1 |
| | | Hashtag: #EarnhardtPB | Appears in photo(s) together | 1 |
| | | Tarrio, Henry | Appears in photo(s) together | 1 |
| | | Vournas, Tom Henry | Appears in photo(s) together | 1 |
| | | McGrew, Joshua | Appears in photo(s) together | 1 |
| | | Smith, Gregory Hamilton | Appears in photo(s) together | 3 |
| | | Santos, Marcos James | Appears in photo(s) together | 1 |
| | | Hashtag: #FloridaHatPB | Appears in photo(s) together | 1 |
| | | Hashtag: #GoldMaskPB | Appears in photo(s) together | 1 |
| | | Hashtag: #GooberPB | Appears in photo(s) together | 1 |
| | | Saenz, Michael | Appears in photo(s) together | 1 |
| | | Grace, Jeremy | Appears in photo(s) together | 1 |
| | | Hashtag: #GreyBuzzcutPB | Appears in photo(s) together | 1 |
| | | Hashtag: #GreyHoodRedHatPB | Appears in photo(s) together | 1 |
| | | Hashtag: #GreyOldNavyPB | Appears in photo(s) together | 1 |
| | | Rusch, Shannon | Appears in photo(s) together | 1 |
| | | Hashtag: #HugeRedScarfPB | Appears in photo(s) together | 1 |
| | | DeRijk, Menno Sr. | Appears in photo(s) together | 2 |
| | | Biggs, Joseph Randall | Appears in photo(s) together | 4 |
| | | Vy, Freedom | Appears in photo(s) together | 1 |
| | | Hashtag: #KidRedPB | Appears in photo(s) together | 1 |
| | | Albert, Timothy | Appears in photo(s) together | 1 |
| | | Nugent, Travis Wayne | Appears in photo(s) together | 1 |
| | | Loehrke, Ronald | Appears in photo(s) together | 1 |
| | | Guarno, Jason G. | Appears in photo(s) together | 1 |
| | | Scott, Daniel Lyons | Appears in photo(s) together | 2 |
| | | Hashtag: #MohawkPB | Appears in photo(s) together | 1 |
| | | Hashtag: #MrMustardPB | Appears in photo(s) together | 1 |
| | | Hague, Robert | Appears in photo(s) together | 1 |
| | | Giddings, Isaiah | Appears in photo(s) together | 1 |
| | | Hobbs, Brett | Appears in photo(s) together | 2 |
| | | Hashtag: #OrangeLensesPB | Appears in photo(s) together | 1 |
| | | Hashtag: #OrangeRWDSPB | Appears in photo(s) together | 1 |
| | | Northcross, Michael John | Appears in photo(s) together | 1 |
| | | DeRirk, Menno Jr. | Appears in photo(s) together | 1 |
| | | Homer, Lisa Ann | Appears in photo(s) together | 1 |
| | | Ronayne, Michael | Appears in photo(s) together | 2 |
| | | Rice, Bradley | Appears in photo(s) together | 1 |
| | | Hashtag: #RodgersPB | Appears in photo(s) together | 1 |
| | | Nordean, Ethan Michael | Appears in photo(s) together | 1 |
| | | Kennedy, Nicholas L. | Appears in photo(s) together | 1 |
| | | Whorton, Bartholomew Richard | Appears in photo(s) together | 1 |
| | | Worrell, Christopher John | Appears in photo(s) together | 1 |
| | | Hashtag: #ShirtstainPB | Appears in photo(s) together | 1 |
| | | Garrett, Troy | Appears in photo(s) together | 1 |
| | | Hashtag: #SleepyPB | Appears in photo(s) together | 1 |
| | | Weston, Tucker Andrew | Appears in photo(s) together | 1 |
| | | Hashtag: #SouthwestPB | Appears in photo(s) together | 2 |
| | | Hashtag: #SpacklerPB | Appears in photo(s) together | 1 |
| | | Hashtag: #SubZeroPB | Appears in photo(s) together | 1 |
| | | Fonticoba, Gilbert | Appears in photo(s) together | 1 |
| | | Belena, Christian F. | Appears in photo(s) together | 1 |
| | | Hashtag: #TagMyFlagsPB | Appears in photo(s) together | 1 |
| | | Hashtag: #TanStripePB | Appears in photo(s) together | 1 |
| | | Wihowski, Frank | Appears in photo(s) together | 1 |
| | | Cisneros, Thad Matthew | Appears in photo(s) together | 1 |
| | | Konold, Felicia | Appears in photo(s) together | 1 |
| | | Konold, Cory | Appears in photo(s) together | 1 |
| | | Finley, Jeff | Appears in photo(s) together | 2 |
| | | Hashtag: #TheVestPB | Appears in photo(s) together | 1 |
| | | Hashtag: #TieDyePB | Appears in photo(s) together | 1 |
| | | Houghton, William Thomas | Appears in photo(s) together | 1 |
| | | Hashtag: #ToyotaPB | Appears in photo(s) together | 2 |
| | | Knowles, James Ehren | Appears in photo(s) together | 2 |
| | | Hashtag: #TreasonEagleScout | Appears in photo(s) together | 1 |
| | | Hashtag: #UFPB | Appears in photo(s) together | 1 |
| | | Barcenas, Christopher George | Appears in photo(s) together | 1 |
| | | Birdsong, Michael | Appears in photo(s) together | 1 |
| | | Gieswein, Robert Dean Carr | Appears in photo(s) together | 3 |
| | | Hashtag: #WindbreakerPB | Appears in photo(s) together | 1 |
| | | Alonso, Fernando | Appears in photo(s) together | 1 |
| | | Donohoe, Charles | Appears in photo(s) together | 2 |
| | | Rehl, Zachary | Appears in photo(s) together | 2 |
| | | Haffner, James | Appears in photo(s) together | 1 |
Web presence:
| ID | Picture | External ID | Display name | Description | Phone | Email | Source | Status |
| --- | --- | --- | --- | --- | --- | --- | --- | --- |
| | | EddieblockFilms | Eddie Block | 4th degree Proudboy, Disabled documentarian and film maker with Eddie Block Films. Like and subscribe to my channel on YouTube. | | | Parler | |
| | | Eddie-Block-1 | Eddie Block | | | | Venmo | active |
| | | EddieBlockFilms | Eddie Block | | | | Facebook | |
| | | EddieBlockFilms | Eddie Block Films | | | | YouTube | |